Last weekend I went to a Crafty Retreat in the Catskills. I don't have a lot of pictures yet (not like the last time but there is this one gem, us in height order: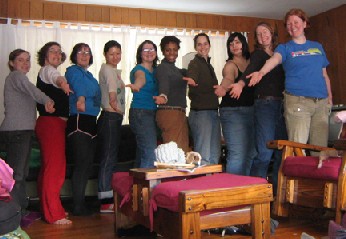 We had so much fun. We ate and crafted and cooked and made smores and crafted and chatted and crafted. I am a fool, and brought 3 projects and didn't finish any. My socks? still working hard on them. If by working hard you mean "occasionally during lunch or while watching tv." I also started a lace project using a yarn that contains chinchilla fur! It's the hearts and rosebuds scarf. Because you know what's smart? starting a new project before you've finished an old one. riiiight.
It snowed Sunday night late, and it was tough to get out of the Catskills. But it was beautiful. I had a great time with my girlfriends!