Lordy Bee, it's cold outside.
I love walking from the subway to work in the winter once it starts to really get chilly. It's about 22 degrees in the morning this week, and I get all bundled up in a ridiculous hat and my knee socks and a sweater and gloves or mittens and my coat. I love seeing all of the different outfits that people wear: the older people, with stylish vintage hats and coats. The young professionals with their dapper coats flying in the wind behind them. And then there's the guys around my age, who are too tough to wear a hat in the winter, and who feel that they must comment on MY hat. Ok, it's a crazy hat. But c'mon! wear a hat, dude! Your ears are bright red and scary looking! How is that more fashionable than a hat?
Here's my hat. And my long socks that I wore on the way to work today so my skirt wouldn't be the death of me. I bought some Swedish military issue wool leg warmers today on ebay. They're coming from Canada, so I don't know how long it will take for them to get here. But you better believe I'm going to wear them EVERYWHERE. In the office, in the street, around the house, with fancy dresses. Oh yeah.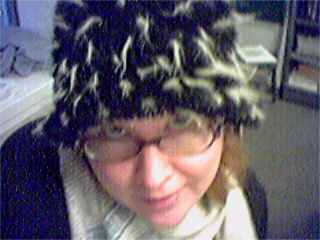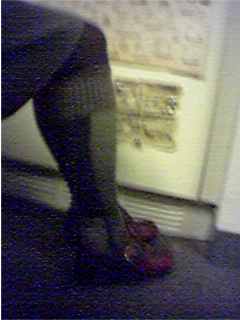 (look at how smart she is with glasses on!)
This morning I picked up my new winter coat at the post office! It's beautiful. It's light blue, and wool, and lined with thinsulate (it reflects the heat back to you! Creepy!), buttons up all the way to my neck, and has cute collars, and buttons on the sleeves. It is perfect. I am so glad I have it for this cold weather, even if it is a little late. Michelle tried to pick it up for me on Monday at the post office and we learned that she needed MY identification to pick it up. Um, what? I asked again, and they said that was the case. I think it's just a local misinterpretation of the postal rules, because Michelle had called a 1-800 info number and they told her that she should have been able to pick it up with just her ID. Those crazies. Ever since they changed the name of the post office from "Hell's Gate" to "Someone Riverez" I haven't loved it there as much. You really can't improve on calling something "Hell's Gate."
They're saying it's going to start snowing on Thursday mid-morning. They also say that with these cold temperatures, there's a good chance for some accumulation by the evening rush hour. The weather service said it could make driving or WALKING dangerous! Hee. I'm really looking forward to some winter, especially with my new coat. But, the only problem is my hat starts to look kind of sad when it gets wet. Like in a drowned skunk kind of way. But I can't leave the house without a hat, and my other hat isn't as pretty!
We weren't allowed to leave the house in the winter when I was little without a hat. Even if we were just going from our warm house into our warm car and into another warm place, Mom would say "but what if the car breaks down?" and once it did, when I was driving from Albany to NYC for a new years party we hosted in our SoHo apartment. I spun-out and went backwards into a ditch and crashed the car into a rock wall in a snowstorm and had to change my tire with my own two hands while it blew and snowed. And then I hobbled the little broke car off the road and took a bus the rest of the way down for the party. I was so glad that I had 2 wool sweaters and a hat and mittens to wear as I jacked the car up and jumped on the tire iron to loosen the frozen lug nuts. And that the auto mechanic I left the car at let me put the plants I'd been bringing home to my apartment in their store front so they wouldn't freeze to death until I could get back there to claim my stuff.
In NYC I think it's even more important to have warm outerwear accessories, because the wind comes off the river, whips around buildings and down long avenues, and hits you hard and cold. My cool hat isn't the best, because it doesn't really cover my ears all the way, but it does look freakin' cool. I don't have any mittens right now, and I really need some, because my fingers get too cold and lonely in gloves. These are my after-Christmas projects, I guess. Before socks. After lace scarves. That's a good interim project, quick, easy, and for me.